Gran Canaria is the holiday resort par excellence for those looking to combine the best beaches and sun with a fun nightlife. Casinos have become a very interesting and different form of leisure. The island's casinos are the main attraction for adrenaline junkies and those who want to try their luck. Who doesn't dream of gambling a few euros and walking out of the door with a full house? In this article, you'll find the top 5 best casinos in Gran Canaria:
1. Gran Casino Costa Meloneras
It's located in the Costa Meloneras Urbanization, in the heart of Meloneras, 500 metres from the natural landscape of the Maspalomas Dunes, between the lighthouse and Maspalomas Beach. Moreover, from its facilities you can enjoy spectacular views of the Maspalomas Dunes, one of the most visited places by all those who want to discover and explore the most beautiful corners of the island of Gran Canaria.
The gaming and machine rooms in this modern casino have the largest complementary leisure offer in the Canary Islands. It has:
Gaming tables (Roulette, Poker, Black Jack…)
Classic casino table games
Gambling machines
Sports Betting
Poker
With more than 1000 m² of leisure and entertainment, this casino stands out for being one of the few casinos that allows French roulette. In addition, it belongs to a chain of hotels with a casino that is present throughout Spain, which guarantees experience and quality.
2. Palm Royal Casino Maspalomas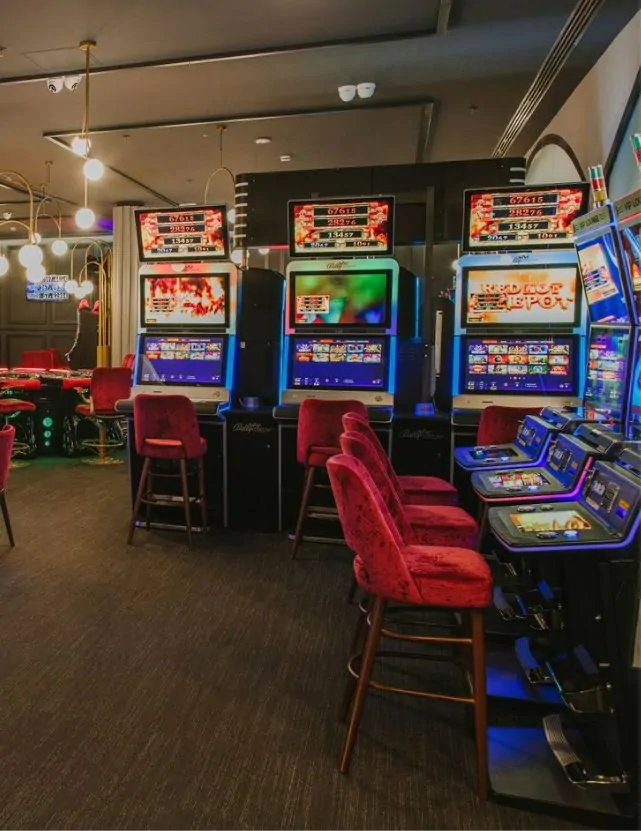 This casino is located in the heart of the only amusement park in the Canary Islands: Holidayworld Maspalomas. It's the most privileged leisure spot for visitors to the island in search of fun and adrenaline. At Holidayworld you can ride on the different rides, you can go to the gym (with heated pool!), have a great time singing at Karaoke, experience an Escape Room, go bowling, or you can taste more than 200 different dishes from cuisines from all over the world.
Palm Royal offers:
American Roulette: State-of-the-art, direct chip-conversion roulette machines that are subject to the new rules and regulations. These automatic machines, without croupier, do the wonders of the vast majority of attendees, from the simplest bet, red/black…
Sports betting: A recent addition to the gambling halls of the Canary Islands. With only 4 years of life, it delights numerous people with minimum bets of 20 cents. You can place single and multiple bets on all types of sporting events. An endless number of markets that'll allow you to give more excitement to your favourite sport.
Recreational, casino games: The traditional recreational machine for adults. With the reference models in catering establishments and the new incorporations to the market. Multi-reel machines, double screen machines with independent jackpots and a room jackpot.
3. El Casino Gran Canaria
This casino is located in the middle of Playa del Inglés, one of the most famous and spectacular towns in the south of the island. It's one of the main reasons why hundreds of people come here every day to spend a pleasant time playing roulette or blackjack, among others.
It has fabulous facilities and is surrounded by a very interesting leisure area, perfect for having a drink in the surroundings before or after playing.
Plus: Casino Las Palmas
We couldn't finish the ranking without mentioning the Casino in Las Palmas, the main city of Gran Canaria. It's located in Parque Santa Catalina, in the port area of Las Palmas de Gran Canaria, more specifically at number 3, Calle Simón Bolívar.
In its facilities it offers a number of games and shows, and has modern slot machines, Poker, Blackjack, Electronic Roulette and sports betting with Sportium. It also has a restaurant and Lounge Bar.
This complex offers its guests the possibility to enjoy concerts, variety shows and many other events. On Sundays players can enjoy brunch.
Try your luck at the best casinos in Gran Canaria
In conclusion, these are the three (actually four!) best casinos in Gran Canaria. If you come to the island, and you're looking for alternative and adrenaline-filled leisure plans you can come and bet some euros. 
Who knows? Maybe you'll go home with more money than you had when you left. Good luck!