In this post, we'll show you the best way to explore the island and, in particular, the south of Gran Canaria. To do so, we've selected the seven best beaches that, in our opinion, you shouldn't miss during your holiday in the Canary Islands.
With miles of spectacular coastline, Gran Canaria is a holiday destination that offers some of the best coastline in Europe. The island has a wide variety of paradisiacal beaches, from white to black or golden sand beaches to pebble coves with stunning cliffs as a backdrop.
In this article, we'll describe the characteristics and beauties of each beach category, so that you can choose your ideal beach in the south of Gran Canaria. Within the 7 beaches, we will differentiate between those with predominantly pebbles and those with sand, both natural and artificial.
The 3 best pebble beaches in the south of Gran Canaria
Gran Canaria has many beaches, all of them with a special charm. Some of them are endless stretches of sand and with many people where you can't enjoy the peace and quiet. For those who love coves and natural spots, here are three of the best options.
1. Medio Almud Beach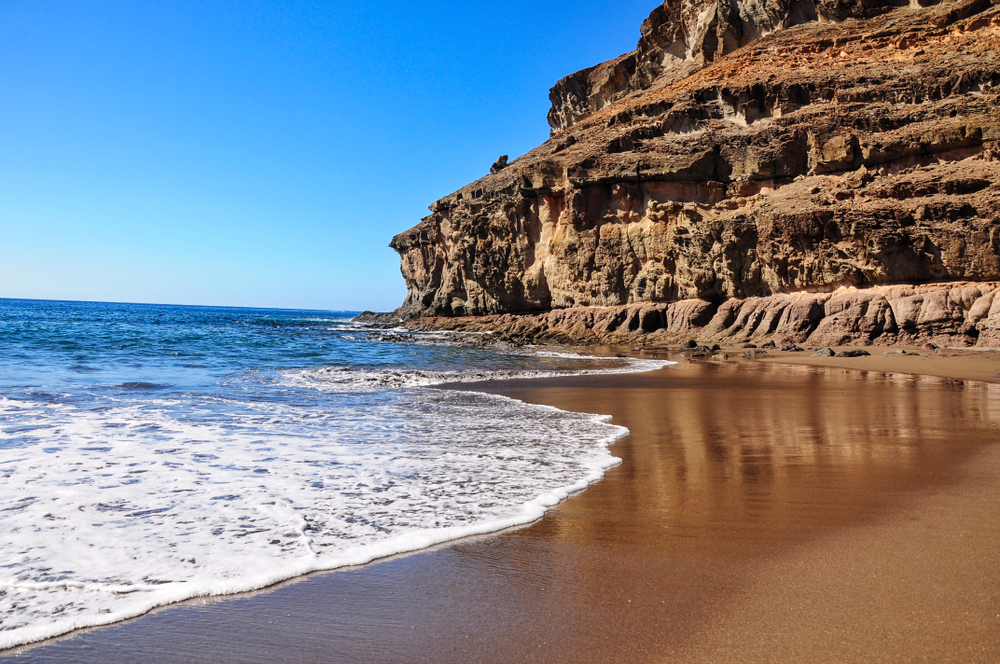 Located between Tauro and Puerto de Mogán, Playa Medio Almud is at the end of the ravine (or barranco) to which it owes its name. To get there, you'll have to walk a short distance from the free car park at the roadside.
This pebble beach stands out for its tranquillity, as it's usually not very crowded nor often visited by tourists. So, if you're looking for a naturist and quiet spot where you can enjoy the sea, this is your best option.
Location of Medio Almud beach:
2. Playa del Pirata or Morro Besudo
El Pirata beach, also known as the beach of Morro Besudo is one of the most beautiful beaches you can find in the south of Gran Canaria. It's quite hidden and not easily accessible, although the walk to it is well worth it.
It's located between the beaches of El Águila and San Agustín. El Pirata stands out for its serenity and calmness, being the perfect destination to enjoy the sun, the sea, and the sound of the waves.
Location of the El Pirata
3. Playa del cura beach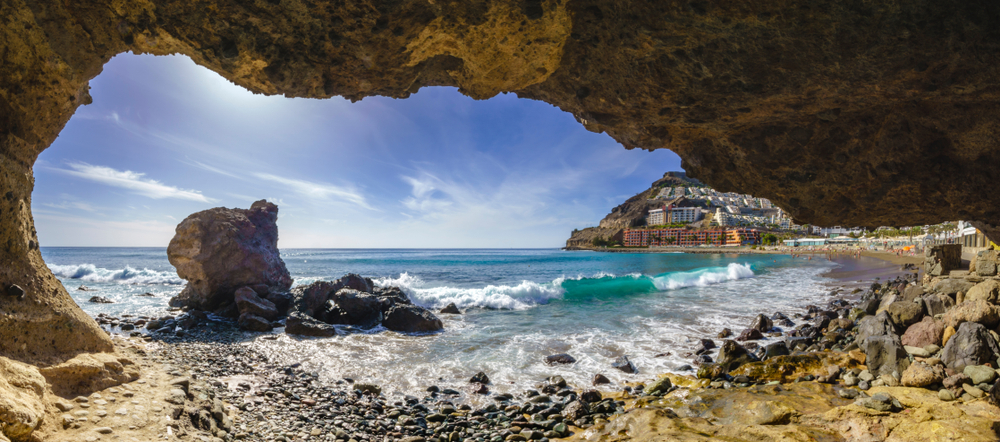 Playa del Cura is a beautiful beach located in Mogán, Gran Canaria. It stands out for its combination of pebbles and golden sand, as well as for its crystal clear waters, surrounded by cliffs and its spectacular scenery.
This cove is one of the most popular on the island, both for tourists and local residents. In short, Playa del Cura is an unforgettable tourist destination for those who are looking for a unique experience and love tranquillity.
Location of Playa del Cura
Top 4 sand beaches in Gran Canaria
We'll difference between natural and artificial sand beaches in the south of Gran Canaria, so that you can choose between the best spots and take a dip in the Atlantic Ocean. Do you prefer natural or artificial sand beaches?
↠ Natural sand beaches near Maspalomas
If you prefer to go to one of the nature reserves that you can find in the south of Gran Canaria, here are two of the best beaches on the southern part of the island.
4. Playa del Inglés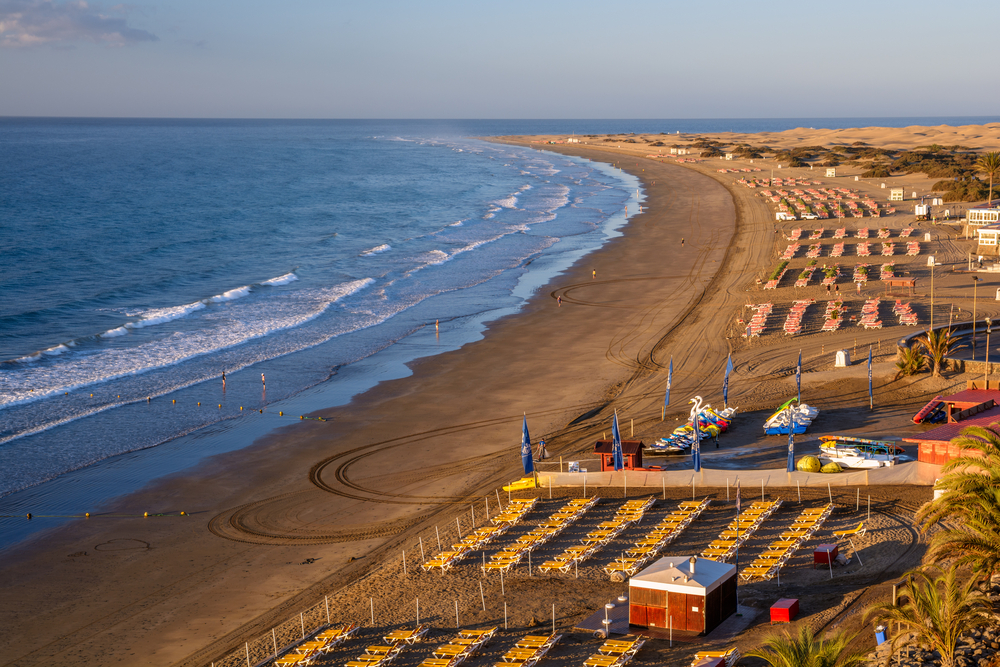 Playa del Inglés is the most iconic and essential destination on your visit to the south of the island. It's known for its dunes, golden sand and crystal clear waters, as well as its breathtaking scenery. It's one of the most popular beaches in the area for tourists and locals alike.
Maspalomas has a wide range of services such as restaurants, bars, shops, and water sports. Its main advantage is its location, as it's situated in a busy tourist area with the possibility of enjoying a lively and vibrant atmosphere.
Location of Playa del Inglés:
5. El Hornillo Beach
The quiet Playa del Hornillo is located in Pasito Blanco, more specifically near the marina of Pasito Blanco and has fine sand and crystal clear waters. Being less well known than others in the area, it's the ideal place for those looking for a quieter and more relaxed experience.
Some of its advantages are its cleanliness and comfort, always well-kept and with services such as showers and sun loungers. Its tranquillity and location make Pasito Blanco a perfect destination of natural beauty.
Location of Playa del Hornillo
↠ Artificial sand beaches in the south
Looking for a holiday based on palm trees, crystal clear waters and white sand? These "pools" in the Atlantic Ocean will round off your perfect holidays. You'll feel like in the Caribbean!
6. Amadores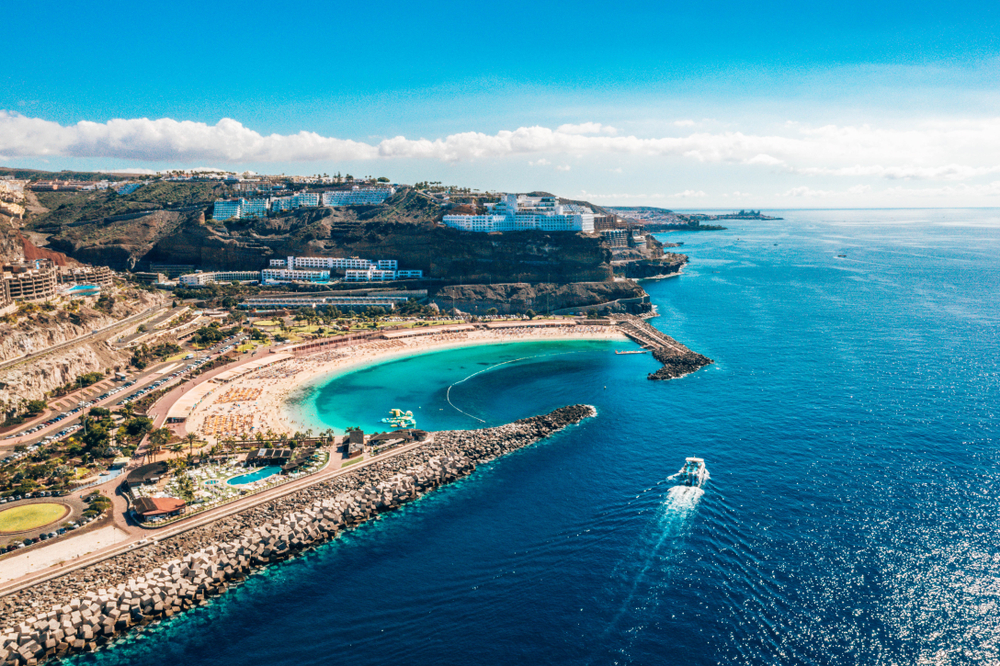 With 450 metres of white sand, Amadores beach is ideal for families and children. It has all the amenities you need to have the best experience, such as parasols and sunbeds, as well as all kinds of restaurant services that you can enjoy right next to the beach.
Some of the advantages it has is the absence of wind, making it the perfect location for those windy days that you can sometimes find in the south. You'll also be able to watch one of the best sunsets on the island.
Location of Amadores beach
7. Anfi del Mar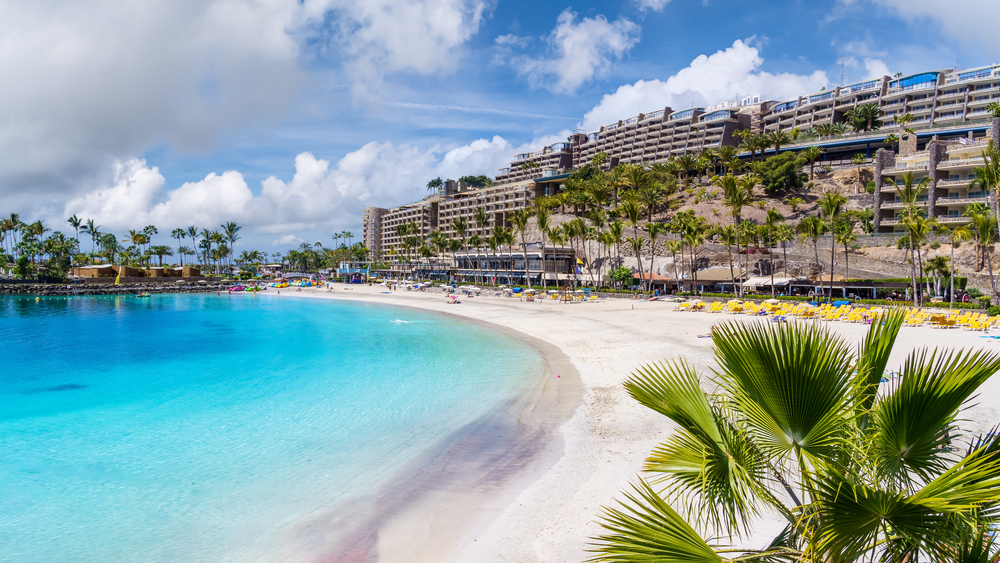 Anfi del Mar is an artificial beach located in the Barranco de la Verga ravine, next to the nearby resorts to which it owes its name. Anfi is a complex that has managed to transform this part of the island into a Caribbean paradise.
It's undoubtedly one of the best options for swimming in the sea in the south of Gran Canaria if you're accompanied by children due to the absence of currents, waves, and wind. Anfi provides safety for everyone, so enjoy all its beauty.
Location of Anfi del Mar
Conclusion
Gran Canaria is a privileged place because of its beautiful coastline. Its shores are capable of satisfying any ocean lovers, not only because of their versatility, but also thanks to its sunny climate all year round. Gran Canaria is an ideal destination to enjoy the sun and the sea.
As for the beaches of the south of Gran Canaria, you'll be able to enjoy yourself uniquely, thanks to the attractions suitable for all ages. You can also enjoy the wide variety of restaurants, shops and live shows.
And if you want to end on an unforgettable day out, you should visit the fun and exciting amusement park: Holidayworld Maspalomas. Here, you can enjoy a bowling alley, karaoke, an escape room, an amusement park and all kinds of gastronomic offers.
In conclusion, if you're planning a holiday in the south of Gran Canaria, you can't miss the beautiful scenery and excitement of Holidayworld Theme Park.