If you're thinking of travelling with your family and staying in one of the incredible hotels on the island, this article is for you. Why? We're going to show you the best area of Gran Canaria for children.
We'll show you during this post the 5 most interesting places to have a great time with the little ones and enjoy an escape to an island that's a melting pot of sensations.
Before starting, we would like to remind you that these are purely recommendations and that, of course, there are many more options on the island. However, we would like to focus on the southern part of Gran Canaria, which is where you are most likely to stay with your family.
What is the best area in Gran Canaria to go with children?
Undoubtedly, the south of Gran Canaria is the best area to go with children. You might be wondering why… It's simple. It's the most versatile and diverse area of the island. Here you can, in just one day, enjoy a day at the beach, contemplate a beautiful sunset and end up having a great time in an amusement park with an ideal gastronomic offer.
But we know that, at this point, you're already looking forward to knowing everything you can do in the south of Gran Canaria with your loved ones, so here we go.
1.Wooland Fun Park: HolidayWorld Maspalomas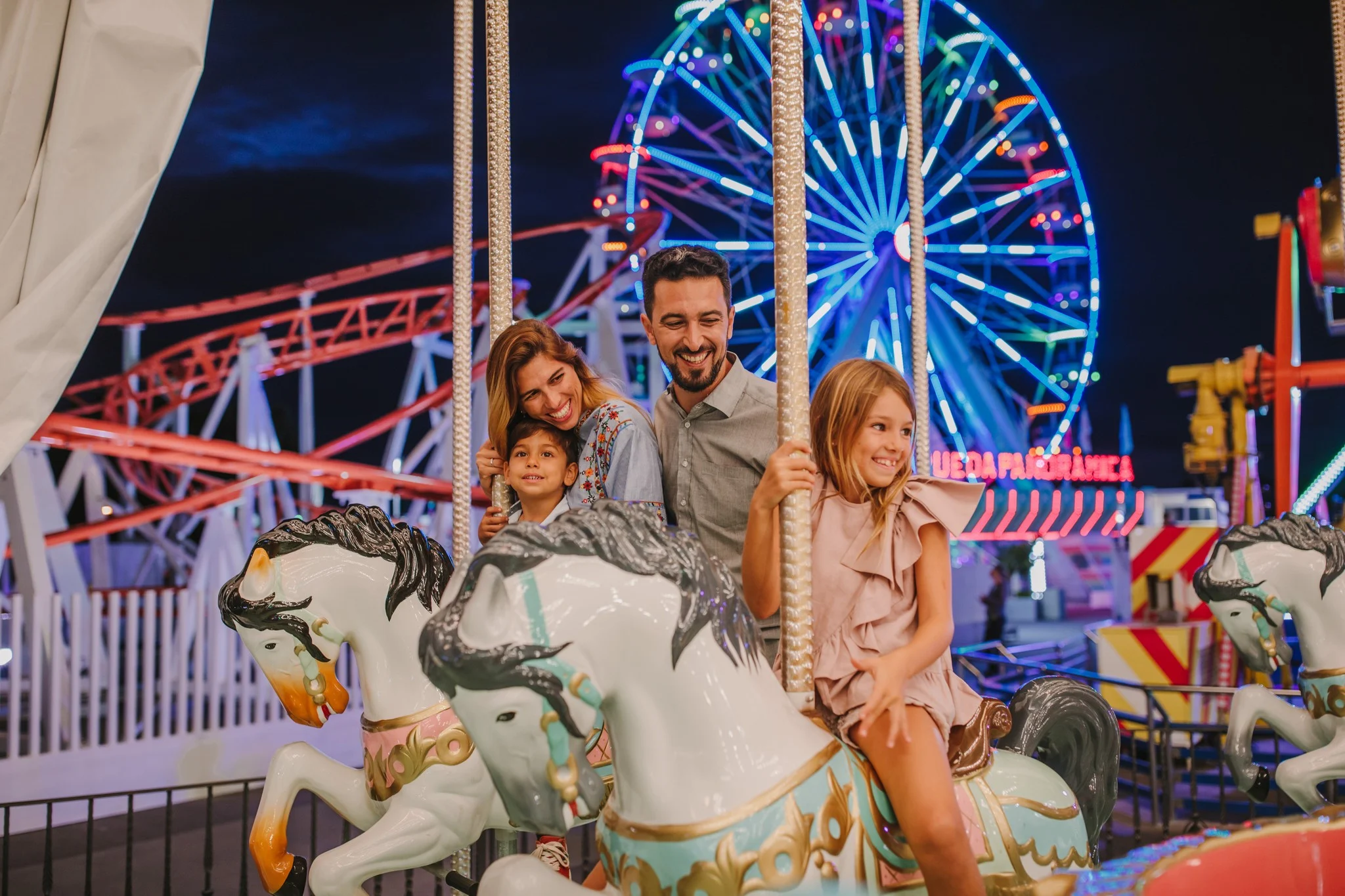 Wooland Fun Park is the best amusement park of the island and one of the best of the archipelago. Here you can have a great time with your children in attractions like:
An incredible and exciting roller coaster.
A pirate ship with guaranteed adrenaline and fun.
A beautiful and gigantic Ferris Wheel.
A dynamic and frenetic Spin Loop.
And the quiet Family Carousel to enjoy a nice ride.
Wooland Fun Park is one of the main reasons why the south of the island is the best area of Gran Canaria to go with children. But let's continue because right in front of Holidayworld Maspalomas is located:
2. Parque Sur park in Maspalomas
One of the most important playgrounds on the island with a quite interesting extension that makes it a very attractive option to enjoy a picnic on its fresh lawn.
It's also an ideal area for skateboarding or cycling lovers as it has lanes where you can walk and enjoy the park's big central pond. It even has fun facilities for children that make it an excellent place to celebrate a birthday.
Although if you're interested in celebrating a birthday, we'll leave you a direct link to our recommendations:
The 5 best ways to celebrate a birthday in Gran Canaria
3. Maspalomas Dunes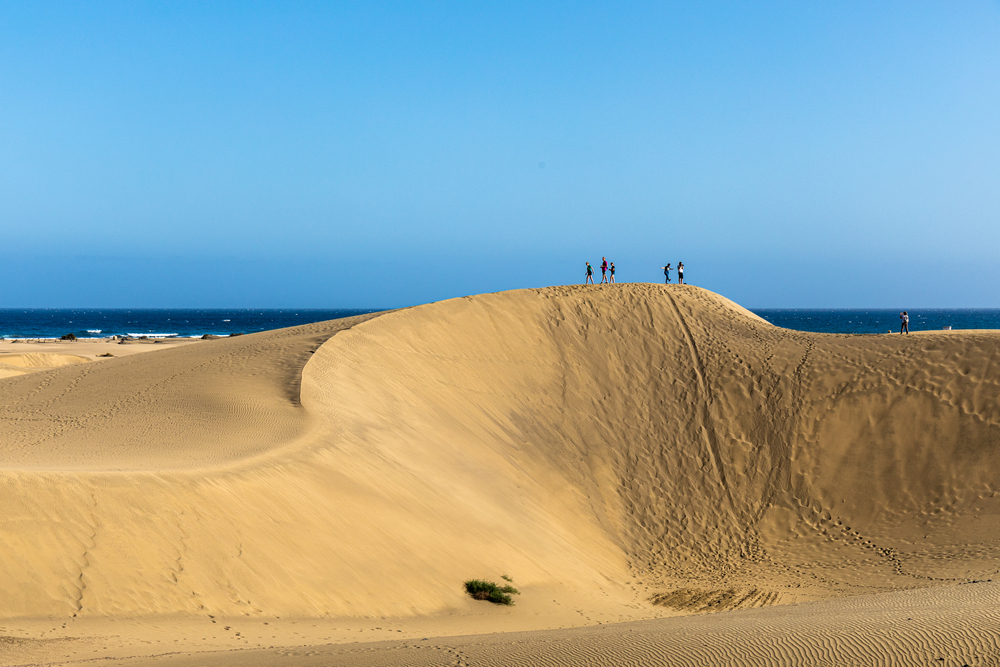 Now it's time for a natural monument like the Dunes of Maspalomas. The experience not only of seeing them from afar but also of enjoying a walk around them is something quite difficult to put in words.
It's an ocean of golden sand with dunes up to 5 and 6 metres high where you can enjoy a fun moment with your children. Believe us when we tell you that they'll remember it forever!
4. Anfi del Mar
Right between Arguineguín and Puerto Rico is Anfi del Mar, a tourist location characterised by its crystal clear waters and its white sandy beach where you can spend a day at the beach and the little ones can enjoy the calm waters.
Next to the beach is the famous "Heart Island", a small paradise next to the marina, ideal for a walk at the end of the day.
5. Amadores Beach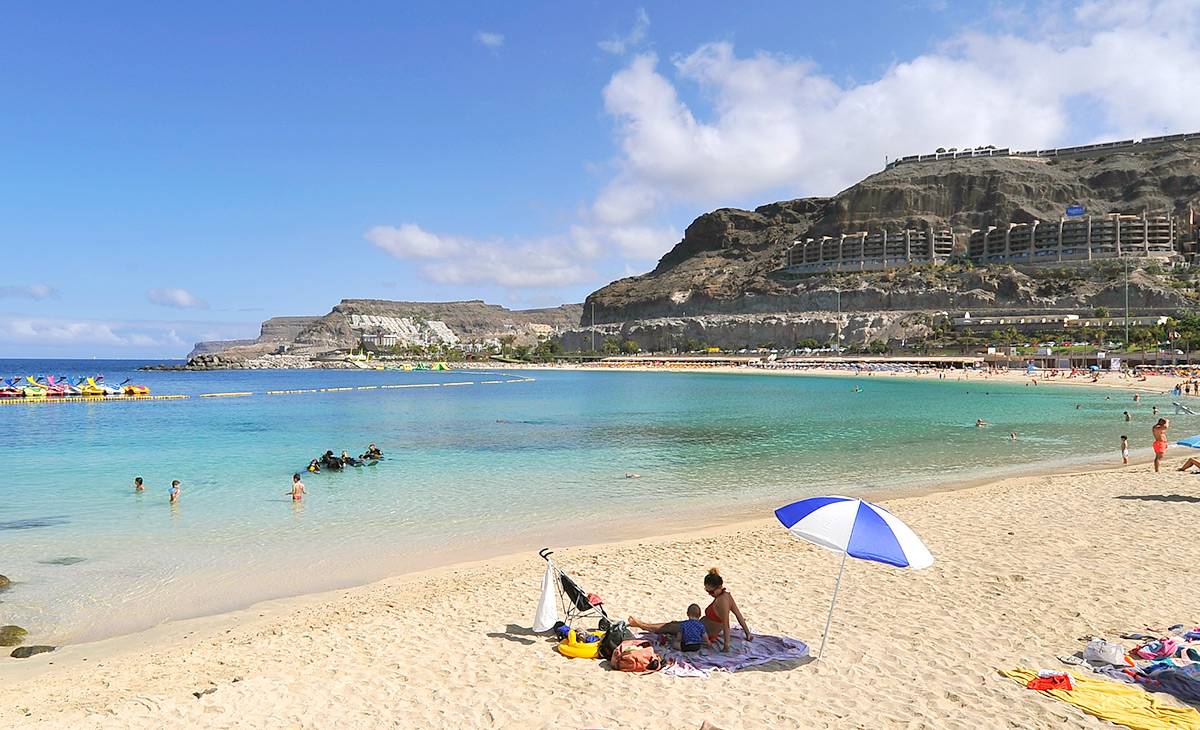 And finally, we couldn't forget Amadores beach! It's very similar to Anfi del Mar, but a little more open to the sea, although it also has calm waters ideal for the safety and enjoyment of the little ones.
Next to the beach, there's a very interesting gastronomic offer full of restaurants from different cultures, ideal to discover new flavours.
Without any doubt, the south of Gran Canaria is the best area to go with children. It's full of beaches, parks, services and a complete hotel offer. This area has something that the others do not have: the best climate of the island, where you can enjoy a summer climate all year round.