Poké or Poke Bowls are attracting more and more people looking to try exotic dishes and cuisines. This dish has also made its way to the Canary Islands, and more and more people in Gran Canaria are becoming fans of this healthy food. But what exactly is a Poke Bowl?
What is Poke?
Poké or Poké Bowl has its roots in the United States around 2012. It's originally from Hawaii and consists of a raw fish salad served as an appetizer or main course. "Poké" means "cut into pieces" in Hawaiian, and originates from fishermen who cut their catch into squares to serve as a snack.
With the rise of healthy food, Poké has become a very popular dish. It stands out because, in poké restaurants, you can choose the ingredients to your taste. You choose the base (sushi rice, brown rice, quinoa…), protein (tuna, chicken, tofu, salmon…), different toppings to choose from (caramelised onion, cucumber, olives, seeds, avocado, fresh cheese…) and, finally, a delicous sauce (soy, teriyaki…) to round up your dish.
Advantages of Poké
Poké has several advantages, apart from being healthy. In case you haven't tried it yet… You're just in time! Here are some of the advantages of the Poké Bowl:
Ingredients
Poké bowls stand out for being healthy and tasty, and they're prepared with fresh ingredients. Healthy, fresh and nutritious food! And just like sushi, the fish is served fresh.
Suppliers
Related to fresh ingredients, Poké restaurants ensure that they use local suppliers for their fresh produce. If this isn't possible, they use local importers. They want to take advantage of good quality local produce.
Environmentally conscious
Most poké bowls are served in biodegradable natural fibre bowls, with wooden cutlery and kraft paper bags. This is intended to reduce the carbon footprint and be more sustainable. If you value the environment and want to do without plastic, the Poké Bowl is a good (and tasty!) option for you.
If your mouth is already watering, we'll tell you where to eat a Poké Bowl in the south of Gran Canaria!
Where to eat Poké Bowl in the South of Gran Canaria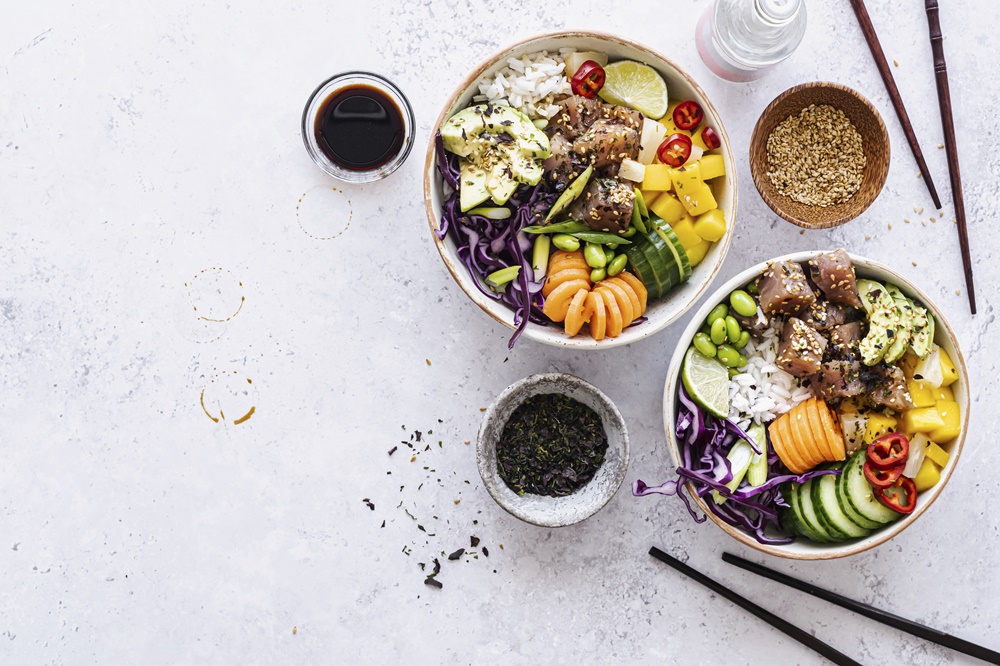 Here are our top 3 places to try authentic Hawaiian poké in the south of Gran Canaria:
Hawaii Poke Maspalomas
Hawaii Poké Maspalomas is located in the only amusement park in the Canary Islands, Holidayworld Maspalomas, on Avenida Touroperador Tui. They offer food to eat in, take away and delivery.
Being located in such a privileged place as Holidayworld, you can enjoy the amusement park, the bowling alley, the gym, the karaoke room, the escape room and much more, and enrich your day with a tasty Poké Bowl.
Poké Station
The Poké Station is located in Playa del Inglés, at Avenida de Tenerife 5. They also offer their Hawaiian dishes to eat in, take away and delivery. The place is quite small, but decorated with a lot of love in a Hawaiian atmosphere.
Maroa Beach Poke & More
This restaurant is located in the municipality of Mogán, in calle Anfi del Mar 2. It's a restaurant just a few metres from the Anfi del Mar beach. They also offer their food to eat in, take away and home delivery. If you're in the Mogán area or are sunbathing on Anfi Beach and fancy a refreshing snack, a Poké Bowl is the perfect choice for you.
Try an Authentic Hawaiian Poke Bowl in Gran Canaria
If you want to try nutritious, healthy and tasty food, order your Hawaiian Poke Bowl! Who said healthy food isn't delicious? Choose your favourite tasty combination and try the best Poke of the south of Gran Canaria. The Poke bowls will take your breath away!