Every year the Gay Pride festival gains more and more prominence and attracts thousands of visitors from all over the world to celebrate the most significant event of the LGTB+ community in Playa del Inglés, in the south of Gran Canaria.
This year will mark the 21st anniversary of the event and, at the beginning of May, Gay Pride Maspalomas takes place with international artists, boat trips, pool parties, parades with more than 100,000 people, concerts and much more.
Find out in this article everything you need to know about one of the most popular festivals in Gran Canaria.
What is Gay Pride?
Gay Pride is probably the most celebrated gay event in Europe. Especially popular in the Canary Islands thanks to its beautiful beaches and mild climate, thousands of tourists and locals travel to Gran Canaria every year to celebrate the LGBTQ+ events the island has to offer. At the gay-friendly hotspot Yumbo Center in Playa del Inglés you can find all kinds of gay-friendly bars, clubs, and restaurants.
During Maspalomas Gay Pride, the beachside streets of Playa del Inglés fill with crowds of people from all over the world. The event includes a pride parade and different themed parties – let's find out!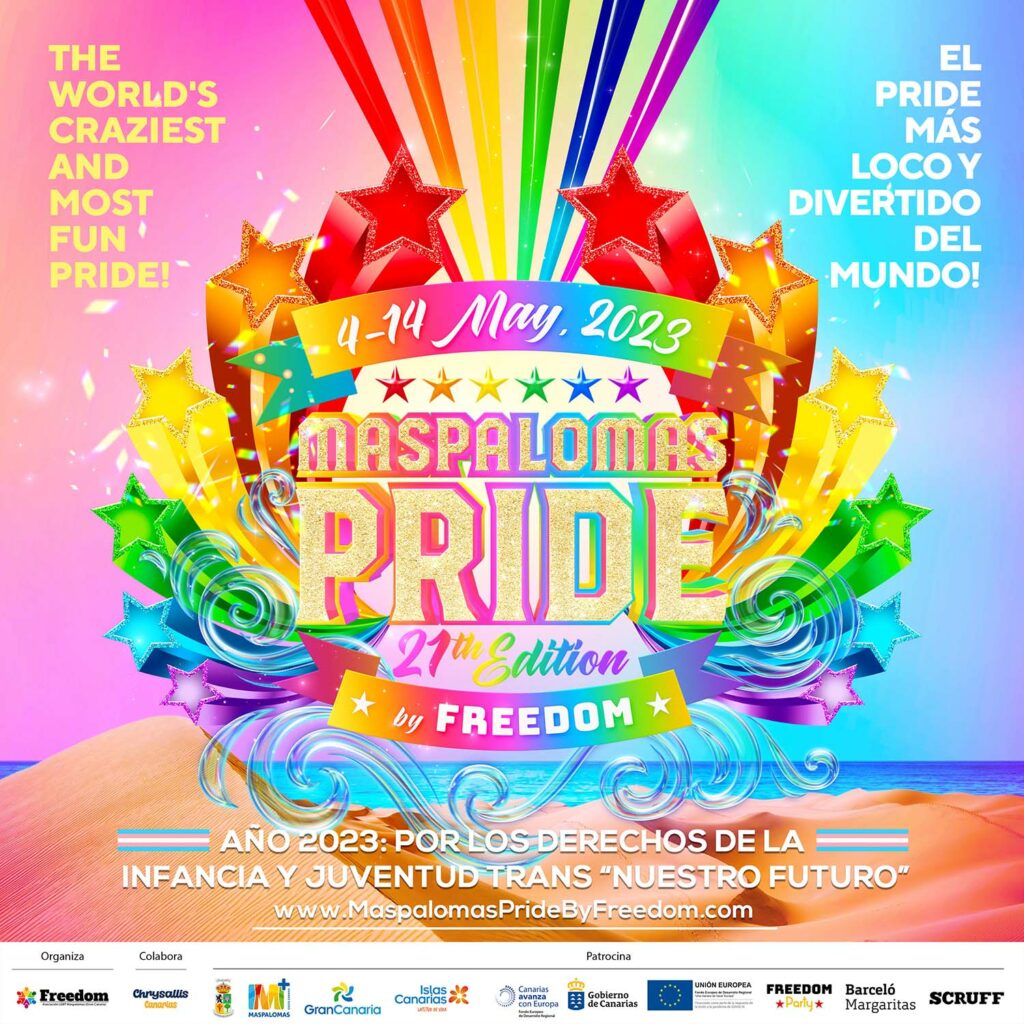 When does Gay Pride Maspalomas take place?
This year it'll be held from the 04th to the 14th of May 2023.
Where does Gay Pride Maspalomas take place?
It will take place in the Yumbo Shopping Centre in Playa del Inglés. It's the gay epicentre of the island, where more than 90% of the gay clubs and bars on the island are concentrated.
What is the message and mission of Gay Pride?
The Gay Pride event aims to recognise the LGBTQ+ community and promote respect, as well as support against violence and discrimination, eradicate judgement and stigma and, above all, be a beacon for LGBTQ+ rights.
Who organises the event?
As in other years, Gay Pride is organised by Freedom – LGBT Association.
When was Gay Pride first held?
The first Gay Pride in Maspalomas was held in 2001. Since then, it has grown exponentially.
What are the events and programme of Gay Pride Maspalomas 2023?
Parade of floats (Saturday 13th May from 16:00h) from the Hotel Riu Palace, along the Avenida de Tirajana, past the Axel Beach Maspalomas to the Shopping Centre Yumbo where the main party is celebrated.
Exclusive boats
Pool parties
Shows
Concerts
Drag Queens
And much more. If you're in the south of Gran Canaria, you should visit Holidayworld Maspalomas, an amusement park with a wide variety of entertainment such as karaoke, bars, a bowling alley, an escape room and a lot of gastronomic variety, where you can enjoy food from all over the world.