What to do in Gran Canaria in March
March marks the beginning of one of the most eagerly awaited seasons on the island. Although this month doesn't differ a lot from others, because on Gran Canaria there's spring atmosphere all year round. Still, it never hurts to know what to do in Gran Canaria in March, a month with mild and pleasant temperatures that allows you to enjoy all kinds of plans and activities.
The best things to do in Gran Canaria in March
It might seem that nothing happens on the island in March. The time between the end of Carnival and the beginning of Easter is usually a bit of a blur, but in Gran Canaria this isn't the case.
The race of races: Transgrancanaria
Did you know that Gran Canaria is the venue for the world's premier trail running event in the first quarter of the year? That's Transgrancanaria: with distances and routes for all levels, ranging from 15 to 126 kilometres. There's also a special vertical race for the most daring runners.

In this year's 2022 edition, which takes place from 4 to 6 March, participants must cross the island on foot, with the help of the organizers, who have several refreshment points with food and drink suitable for this type of event, as well as an excellent security team that'll watch over every metre of the race.

Urban tourism with history
The capital of Gran Canaria hides a history that often goes unnoticed by tourists, who in March tend to go mainly to the south. The district of Vegueta is the historic centre and founding nucleus of the city par excellence. It still preserves the beautiful buildings of past centuries and strolling through its cobbled streets is a real pleasure.

Renaissance, Baroque and Neoclassical façades follow one another in this neighbourhood, which is home to important buildings such as the Columbus House (Casa de Colón), the Cathedral of Santa Ana and the Hospital of San Martín. Vegueta also has interesting museums such as the Museo Canario and the Atlantic Centre of Modern Art (CAAM).

Stroll through one of Gran Canaria's best street markets
In Teror, famous for its delicious chorizo, every Sunday its famous and busy street market is being held place, where you can find practically everything: from vegetables and fruit, meat and sausages, cheese, to clothing of all kinds, jewellery, flowers, toys, handicrafts, religious objects, etc. It's, without a doubt, a great plan for Sunday morning and a good place to buy a nice souvenir.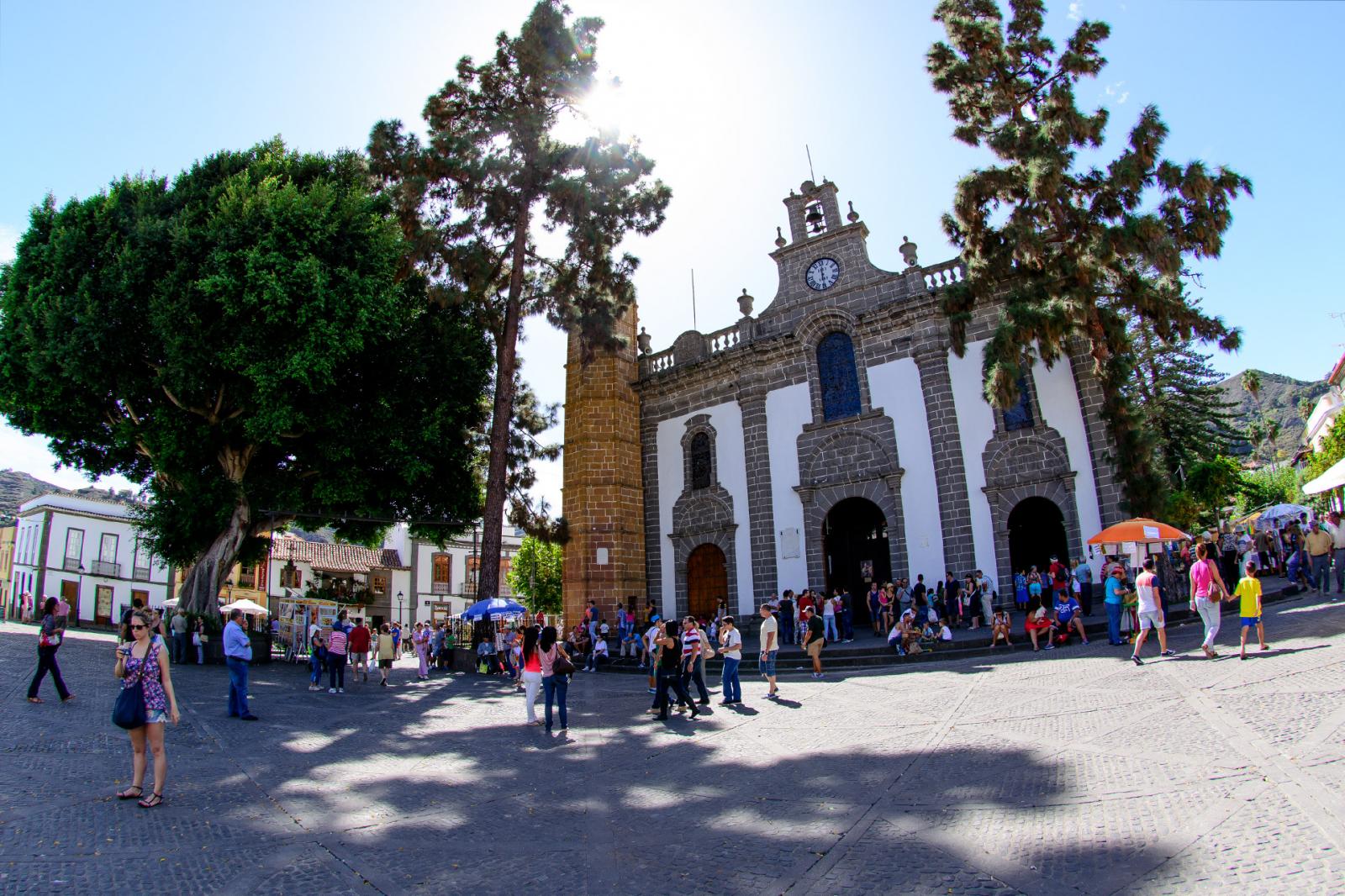 Breathe in Gran Canaria's seafaring tradition
The whitewashed houses edged with bright colours and beautifully decorated with flowers are the most striking feature of Puerto de Mogán, a traditional seaside town in the southwest of the island. It's known as the "Venice of the Canary Islands" because of the canals that cross some of its streets next to a small quay full of pleasure boats.
It's a scene that is hard to forget. If, as well as strolling around and taking photos, you want to take a dip, you can do so on its small, welcoming beach. And, like any self-respecting fishing village, it has several restaurants where you can sample the freshness of the seafood caught daily by the local fishermen.

Holidayworld Maspalomas, where everything happens in March
But, in addition to all of the above, there's one thing you shouldn't miss for anything in the world: a visit to the largest entertainment and leisure centre in the Canary Islands, located in the south of Gran Canaria: Holidayworld Maspalomas. Here you can enjoy the best attractions, have a game of bowling in a professional bowling alley, feel like a music star in a magnificent karaoke, decipher the mysteries of an escape room, taste the flavours of the world in a gastronomic market and so much more!
It's, in short, the heart of leisure and entertainment on the island. It's a place full of magic where young and old alike will have a great time. There's no better plan to do in Gran Canaria in March than to visit Holidayworld Maspalomas.